Dumplings
During Chinese New Year, families sit together and eat a big meal. Dumplings, or jiǎo zi 饺子 in Chinese, are the most important course of the traditional Chinese New Year eve feast. Usually, families will sit around the dinner table and wrap dumplings together in the afternoon on Spring Festival eve. The reason Chinese people eat dumplings is because of their shape like the ancient sliver & gold ingots which symbolize wealth. People saying that more dumplings you eat during New Year time, the more money you will make next year. They will also wrap a few dumplings with gold coin in it and the person who gets the coin-dumpling is supposed to have good luck in the coming year. Nowadays, coins are gradually replaced by candy or peanut for sanitary reasons. Traditionally, dumplings are eaten at midnight and throughout the Chinese New Year holiday.

Fish
In Chinese fish is yú 鱼, the pronunciation of it sounds same to abundant or surplus in Chinese. So fish symbolizes of abundance. Eating fish during Chinese New Year time symbolizes having an abundant year ahead in the coming year. The fish should be the last course of the festival eve feast and it should be left with some leftover for next meal which is the first meal of the New Year. This is saying have surplus year after year. In the northeast china, Jilin province, winter fishing in icy chagan lake is a traditional tour scene there. The biggest fish of their fish net can be bid to a very high price by the locals for bringing the luckiest "abundance" home for their families around spring festival time.

There are some certain rules in eating fish:
The fish shouldn't be turned over even when the upper side is eaten for turning over meaning switch good luck back to bad luck.

Be careful not to break the main bones of the whole fish, this is symbolizing the completeness of the good energy and wealth.

The fish head should be placed toward elders of the family or distinguished guests for representing respect.

Spring Roll
Spring roll or Chūn juǎn 春卷,they get their name because people eat them during Chinese new year time. Chinese New Year is also considered to be the new beginning or new spring of the year, therefore Chinese New Year is also called Spring Festival. Spring rolls are cylindrical-shaped rolls filled with vegetables or meat. The golden-yellow wraps and together with their bar shape make spring rolls look like golden bars. So they are symbol of wealth. In fact, spring rolls come from Cantonese dim sum dishes so they are more popular in south and southeast china provinces.

Tang yuan
Tangyuan or Yuán xiāo 元宵 in Chinese are sweet rice balls. They are the main festival food for lantern festival in fact. But the south China people eat them throughout the Chinese New Year holiday. Tangyuan symbolize reunion for their pronunciation of it is similar to reunion or together in Chinese. This is the reason they are poplar national wide during spring festival time, though people in south and north china have different favors of Tangyuan fillings.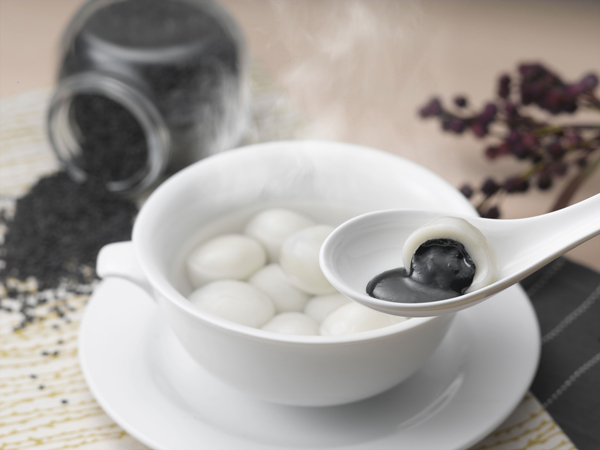 New Year Cake
New Year cake or nián gāo 年糕 in Chinese is glutinous rice cake or something like a sticky rice pudding. Its name literally means getting higher position year after year.
Laba Congee
Laba congee or Là bā Zhōu 腊八粥 in Chinese, is actually sweet fruits rice porridge. Laba congee is a traditional food eaten on Laba festival which marks the beginning of Spring Festival preparation.

Hot Pot
Hot pot, huǒ guō 火锅, is a necessary dish in some places mainly in the north part of the country. Eating hot pot makes people feel warm and the atmosphere is very lovely. The red color indicates that the following year is happy and booming.