Ask a Question
Top China Travel's parent company China International Travel Service Guilin, Co. Ltd (CITS Guilin) is a highly-reputed and licensed travel company based in Guilin, China. CITS Guilin is also a member in good standing of several major travel associations in the world, such as PATA, ASTA, IATA, etc.
PATA (Pacific Asia Travel Association)
Pacific Asia Travel Association (PATA), founded in 1951, is a not-for profit association that is internationally acclaimed for acting as a catalyst for the responsible development of travel and tourism to, from and within the Asia Pacific region. PATA leads from the front as the leading voice and authority on travel and tourism in the Asia Pacific region.
It is a great honor for CITS Guilin to be a member of PATA. Our official membership ID is #9022. You can also check the clear copy of our PATA patent as below.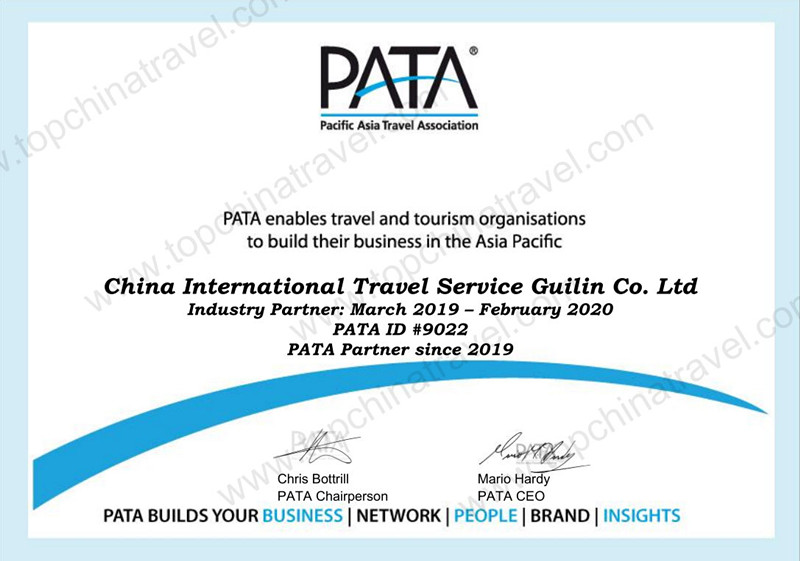 ASTA (American Society of Travel Agents)
American Society of Travel Agents (ASTA) is the leading global advocate for travel advisors, the travel industry and the traveling public. Its members include travel advisors and the companies whose products they sell such as tours, cruises, hotels, car rentals, etc. ASTA is the world's largest association of travel professionals.
CITS Guilin is a member of ASTA with member ID 900164756. Please check our ASTA Member Certificate shown as below.
Find our company profile on ASTA website at http://web.asta.org/iMIS/ASTA/Contacts/ContactLayouts/Profile.aspx?ID=900164756&ContactKey=9d829b6e-d68d-490e-8925-db2939f35d63&WebsiteKey=abd5fcd9-388c-4205-80a4-9fe223227405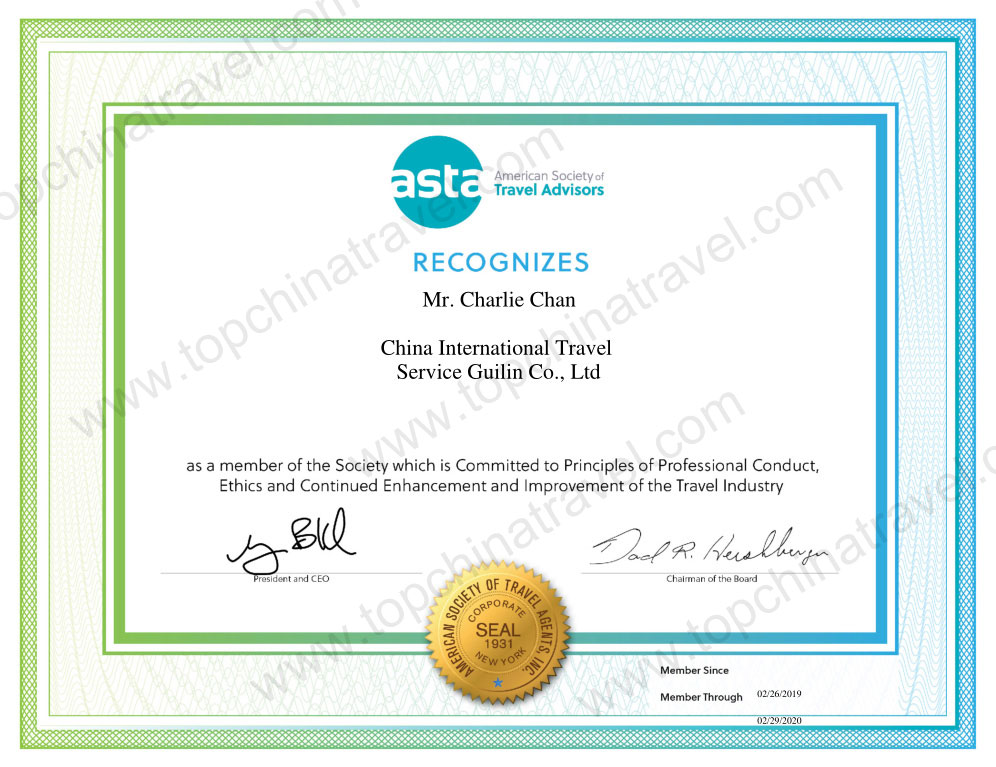 IATA (The International Air Transport Association)
The International Air Transport Association (IATA) is the trade association for the world's airlines, representing some 290 airlines or 82% of total air traffic. As a leading tour operator in China, our parent company CITS Guilin also plays a role as airline ticket agent. So we are also a member of IATA with member ID 08-3 01996. Our certificate of registration is as below.