I was dreaming for traveling
Dunhuang
for a long time. Travel needs impulse but not only the mind in the brain. I only spent one week to plan this 6 days trip. In order to save money, I followed the route of
Guilin-Xian-Jiayuguan-Dunhuang-Lanzhou-Xian-Guilin
, because I could save a big money from air ticket by using the same airline.
Day 01 Nov01 Guilin-Xian MU2308 (2350/0130)
The first section was red-eye flight and the flight was still 40 mins late! So exhausted, when we arrived
Xian
, it was 0210am. There was a young foreign couple on our flight, they carried a several months yrs old baby. They didn't book any hotel beforehand even they took the late flight. Finally, they chose to stay in a small hotel which is RMB60/per room night which near airport. I so admired their travel spirit. Where you travel is more important than where you stay! It was 0320am when we arrive hotel.
Jinjiang Inn Jiefang Road Branch Inn is a nice 2* hotel with good location. It is 15 mins in walking distance to the city center (Bell Tower). And there are several buses to the city centre and have one stop in front of the hotel. The room condition in this hotel is also clean and acceptable. We stayed in the standard room A, because it is cheaper than standard room B.
Day 02 Nov02 Xian-Jiayuguan MU9205 (1235/1430)
0930am, we check out from hotel and took bus to the Melody Hotel to take the airline bus. We spend RMB30yuan and arrive Xian airport at 1030am. After check in, we went to KFC to have breakfast, just order some normal snack, one hamburger + one bag of French fries + New Orleans Roasted Chicken + two pies + one cup of cola, we have to spent RMB75.5yuan!Even more than the bus fee from city centre to airport. I sweared that I wouldn't have meal at the airport anymore.
So lucky, the flight was taken off on time. In my mind, Jiayuguan should be a very small city. To my surprise, they have very beautiful airport building. It was newly built in last Oct. The taxi driver was standing in a line to wait the clients. Not like the other places we travelled before, when you go out of the airport, there are always lots of crowds to try to persuade you to take his or her taxi.
We landed it, the view was quite different, the landscape was so bleak and even no any building on the way. We decided to do the sightseeing firstly in order to save time but no go directly to hotel. The taxi driver was trying to sell a magazine to us. If we bought it, we could save some money in entrance ticket. In order to promote the local tourism, the local provincial tourism bureau printed this magazine and gave discount on entrance ticket. You only need to pay half of the entrance ticket by using the magazine. It was not bad even we paid tenfold price of this magazine, we still could save around RMB110 by purchasing the entrance ticket.

The first attraction is Xuanbi Great Wall. I have been to
Badaling
,
Mutianyu
& Huanghuagang Great wall before, but all of them are made of brick. But Xuanbi Great Wall is made by clay. It was the beginning of Great Wall in Ming Dynasty. The outside of Great Wall is another country but not belong to China in ancient time. And there were lots of soldiers guarded the border lonely before, thousand of years has passed, but the Great Wall is still there, how many stories happened around it!
Then we drove around 20 mins to No.1 Mound of the Great Wall. Actually, it was the first mound in the western of Great Wall of Ming Dynasty. Now it was weathering, and you could still find a section of old great wall next to it. I liked the old site, because you could find the shadow of pass, you could touch the history so closely.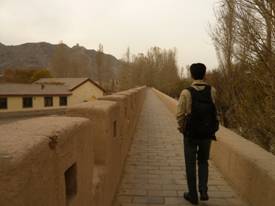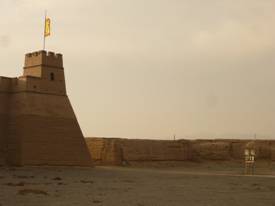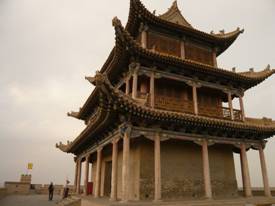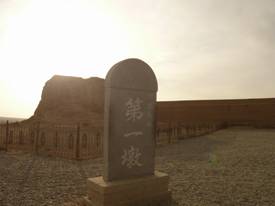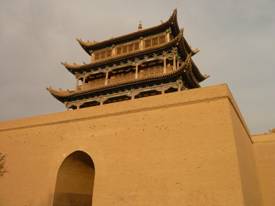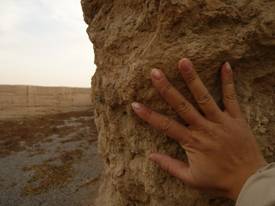 The last stop was
Jiayuguan Pass
. It was literally named "Excellent Valley Pass". It played the main role in against the invasion of minority group which live around China in ancient times. We met the sunset when climbing the pass. The wind is so strong here, less tourists, my mood was peaceful. The individual was so smallness in front of history. Millions of people's lives combined the long history. How to live well and make ourselves a happy life is more important if you can't be a great man.
We drove back to hotel and check in. After took a rest for a while, we took a taxi to the Fuqiang Night Market to have our dinner. Here in northwestern of China, the mutton was the main meat, so having the roast mutton, drinking the bear was the nice experience which you can't miss here.
We ordered 20 string of mutton shashlik, two bowls of noodles and one bottle of local beer, we have a fantastic meal!
Oh, forgot to introduce, we have had a bowl of beef noodle with nice taste on the way to Jiayuguan Pass. Beef noodle was the special local cuisine and popular in each city in China. But here you could have the authentic taste.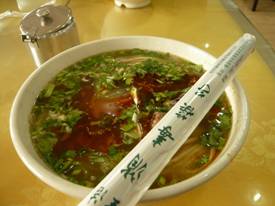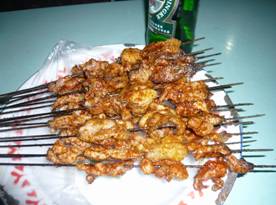 Day 03 Nov03 Jiayuguan-Dunhuang by public bus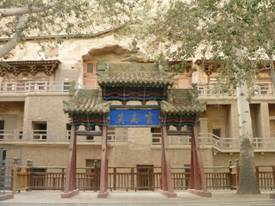 We took the morning bus from Jiayuguan to
Dunhuang
at 0900am, the duration is 5 hours. On the way, you could see some wind power which seldom see in southern China. When we arrived in Dunhuang Bus Station, it was already 1420pm. We had to rush to the scenic spots or we couldn't finish our plan in time. We rented a taxi which cost RMB560 for 2 days. Different with building in everywhere in my hometown, here you could see land without buildings, plants. Populus diversfolia was the popular plant in desert. When the leaves turned yellow in Nov, it was also one of the big attractions in Dunhuang.
When we arrived in
Mogao Grottoes
, it was 1535pm. Traveling in the low season was a good choice. Fewer tourists and some scenic spots offered 50% discount of the entrance ticket, like Mogao Grottoes. It charges RMB160 in high season but only RMB80 in low season.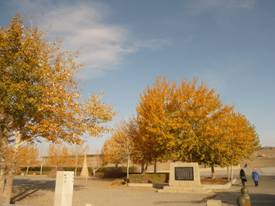 In AD 366, during the Eastern Jin Dynasty, a monk named Yue Seng chiseled the first cave here. Now it has 1600 yrs history already. I would say it is the well-preserved grottoes in China. I have been to
Yungang Grottoes
and
Longmen Grottoes
before. Compared with the former two grottoes, you still could find the colors in the stone carving of Mogao Grottoes but not others. It is said that Japanese were all wearing the mask when they visiting Mogao Grottoes, because they were all afraid that the carbon dioxide we breathing would damage the delicate frescos. And there is no shooting in the cave, this rule is strictly executed in visiting the Mogao Grottoes. You could only put the view in your heart but not camera.
After 1 hour spending in Mogao Grottoes, we continued to visit
Rattling Sand Mountain
although we were quite tired. When money is not enough, time is also not enough, you have to rush to finish all your itinerary. The Rattling Sand Mountain is quite large, you could see it constantly when you were driving on the way from Mogao Grottoes to it. But when we stood in front of it, we still found it is so fantastic. I have visited the desert in Dubai, but our Chinese desert is more beautiful than the desert in Dubai. The sand was glittering under the sun. And the shape line of the desert was so clear, nature was the best drawer!
We paid RMB80/per person and ride the camel to enter the desert. That was my first time to ride the camel, because it is taller than horse, and it is safer comparing with ride the horse. Just we felt so sorry about the camel, they had to work overtime because we came so late. We were the last visitors that day. All the sellers of entertainment program in the desert, like motorcycle, sand sliding, they were all wait us to come, collected the money from us and off duty. But we still played so happy although it got dark graduate, because the whole desert was belong to us, no other tourists! There was a woman guide the camel's way or it would get lost in the desert, her child was still waiting her to come back. But she still helped us to take pictures, talked about some interesting stores which she had with other tourists before, so we paid RMB40 tipping to her when the trip ended.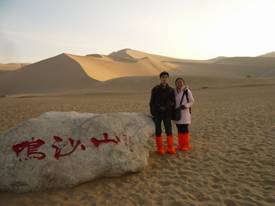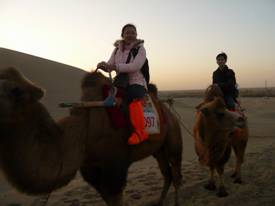 Tonight's dinner was roast lamb. It was also quite nice. But we had strong desire to have green vegetable, there was no vegetable in the winter time in northern China. So sad.
Day 04 Nov04 Dunhuang-Lanzhou K9668 (1850/0918+1)
Today we would visit Yardang Formations. It was named as ghost city as well. It was so mysterious because one of the famous explorer named Peng Jia Mu was lost in this area. I was so exited as I would see it soon. But on the way from Dunhuang to Yardang Formation, we had to pass a military restrict zone. It couldn't be forbidden to pass at anytime because of the special arrangement of military. We arrived there at 1000am and it was closed and might re-open at 1300pm. Have no other choice just finger cross, we drove back and visited Yang Pass.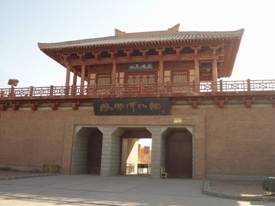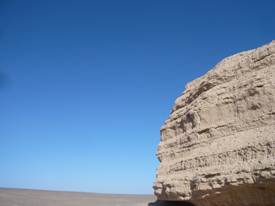 Yang Pass originally built by Emperor Wu in the Han Dynasty as one of the two most important passes protecting Dunhuang from invasion from the west (the other pass is the Yumen Pass (Yumen Guan). So it means China's earth was end in this pass in Han Dynasty, go through it, the land outside is not belong to China in ancient time. But quite a pity that we didn't visit the real herritage of Yang Pass. The one we visited was newly built according to it's orginal look. It's not so worthy to go there. After spending 40 mins there, we turned back to the way to Yardang Formation.
Fortunately, the way was re-opened and we passed it at 0100pm. After 1.5 hours driving, we arrived to Yardang. When you stood in the mid of Yardang, you would find that nature is a good sculpture as well, but he used million years to finish this masterpiece.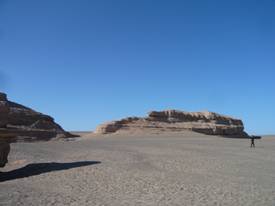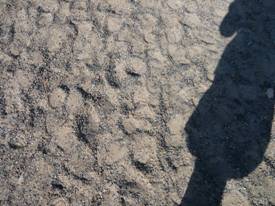 There is a rare black grit in Yardang. So the land is black and the stone is flaming in the yellow color under the sun, the picture is so amazing. I took a picture of black grit under my foot as well.
We stayed there for around 50 mins and drove directly to Dunhuang Railway Station to take the overnight train to
Lanzhou
. The train started from Dunhuang at 1850pm and arrived in Lanzhou in the morning at 0918am.
Day 05 Nov05 Arrive Lanzhou, Lanzhou-Xian MU2305 (1235/1345)
When we arrived in Lanzhou in the morning, we took a taxi to the airport to connect with our flight. The driver was so nice, he stopped at the side of Yellow River and gave me sometimes to take the picture of our mother river. This was my first time to see the floating Yellow River, before that I have seen it before in Shandong Province but it was frozen in the winter time.
Necessarily, had a bowl of famous Lanzhou Beef Noodle at local restaurant according to our driver's recommendation.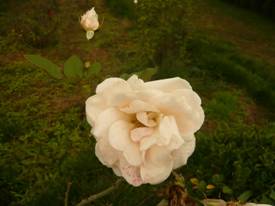 On the way to the airport, I talked a lot with the taxi driver, I liked the communication way, you could know lots of interesting things you never heard before, and I also let the driver know more about my hometown.
We arrived in
Xian
on time and on the way to back to Xian City, we explored the Hanyang Tomb. Hanyang Tomb was a big mausoleum of the emperor named Liu Qi in Han Dynasty. Han Dynasty was built thousand years before, but there are also lots of great creations for our ancestors. I didn't take any picture inside the tomb, because it seemed that this behavior was not so respectful to our ancestor s before, but I took a picture with a white flower which bloomed outside the tomb. The beautiful white rose was showing our respect to this greatest emperor in Chinese history.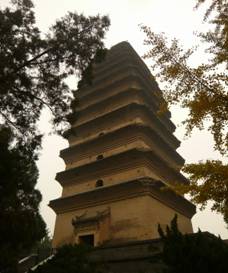 Continually, we visited the
Small Goose Pagoda
. Different with the
Big Wild Goose Pagoda
, Small Willd Goose Pagoda was built in a peaceful garden, there you could find some old trees and less tourists as well. The design of Small Wild Goose Pagoda is quite exquisite. The foundation of it is a hall-ball shape, like th e Roly-Poly we play in our childhood. So although it experienced the serious earthquake in history, it is still standing and welcomes the tourists from all over the world.
And there is a store inside the Small Wild Goose Pagoda park, selling the drawing with made by the local farmers, quite interesting and the price is moderate as well. I brought one and it cost only RMB150 for one piece.
Day 06 Nov06 Fly back to Guilin and end up my unforgettable Silk Road Trip!