Beijing
, a city possessing the holy Tian'an men Square, the imperial palace, the world heritage site Great Wall, etc., has been my dreamland since my childhood. But because of various reasons, I had got the chance to Beijing till I became a sophomore.
During the Labor Day holiday, I got on the train to Beijing by myself. After experienced the noise of an overnight train, I finally arrived in Beijing. Dizzy by exits gates of Beijing train station, I spent more than 1 hour to meet my friend who was study in Beijing. I just had one feeling – Beijing is a metropolis!
My Beijing tour was formed with lots of famous attractions such as Tian'an men Square, Great Hall of the People, Forbidden City, Summer Palace, Great Wall, Temple of Heaven, Ming Dynasty Mausoleum, Ming Huang Wax Palace, Grand View Garden, the old Summer Palace, Pedestrian Street, Xidan Commercial Area.
I just want to write down the memory of these attractions and share with you what I had found during that tour.

► Forbidden City: HOW GREAT IT IS!
As the palace for Chinese emperors, no matter where I went, I could appreciate the unordinary scenery all the time. In my Forbidden tour, there were lots of sites being renovated so that I saw a different view of this site. Red wall of this palace may be a perfect point for taking photos.
► Summer Palace:
I had known more about the luxurious lifestyle in the ancient imperial families in this garden. In another word, this architecture may be the representative of the ancient imperial society.
► Great Wall:
We paid a visit to the Great Wall during the dust period. Just climbed for a few distances, a stele wrote sentence "Person who has not arrived in the Great Wall may not be a great man" was set there for people to take photos.
► Ming Dynasty Mausoleum:
I had visited two of the most magnificent tombs in this site. After a long-distance road to the code of these two tombs, the sentence I only wanted to say is "What an imperial tomb!"
► Temple of Heaven:
hundreds of years trees in this site colored this temple a mysterious cover for me. Giant trees and leisure garden decorated this site as an ideal place for worship the god.
► Great Hall of the People, Monument of the People's Heroes and Tian'an Men Square
: these three site were located in the different direction in the same square. Army were practicing flag rising ceremony all the time although there was not in the morning.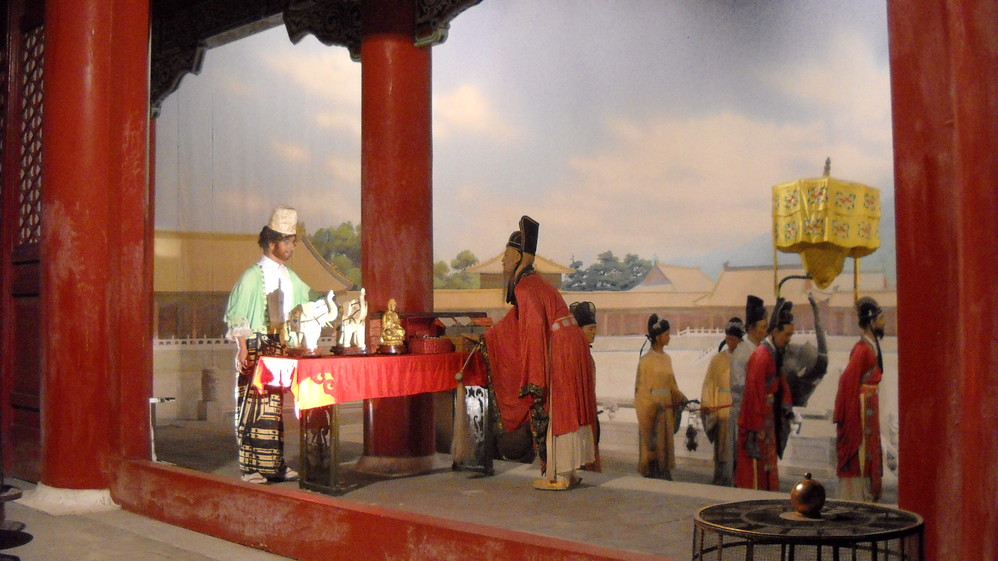 ► Ming Huang Wax Palace: the wax figures in this museum were lively, and they formed into stories in the Ming Dynasty.
► Grand View Garden: I had a chance to see live show of the famous Chinese classical novel - the Red Dream Mansion. Free tour guide was served for us when entering into this site.
► Pedestrian Street: On the left side of the entrance, I found the snack vendors immediately. But in my opinion, snacks that sold here were expensive and not good to taste.
► I had not chance to visit the various kinds of museums in Beijing in this tour, so I decided to plan another Beijing museum tour in my next time.
► Beijing Roasted Duck:
Beijing roasted duck was extremely delicious! In order to carry some of this food, I bought a preserved one. But it turned bad after a few months.
► Hutong in Beijing:
there were countless hutongs, but I didn't pay a deep visit of them because I was afraid to meet robbery in the small lane. Courtyard was a dreamland in my childhood. In my imagination, I could play with lots of friends because there was more than one family living in the courtyard.
► Beijing local people were hospitality and honesty to our traveler.
Things I mentioned above are what my impression of Beijing, an ancient land as well as a modern city to explore more and more and more!