Although I've back from
Zhangjiajie
for few days. But I still couldn't calm down because of the breathtaking scenery in Zhangjiajie. The quiet Golden Whip Stream, the magnificent Yuanjiajie Area, and the Fenghuang Ancient Town, all of these were printed in my mind freshly.
It was a 3-day Zhangjiajie tour. The itinerary is in the following:
Day 1: Zhangjiajie Forest Park: Golden Whip Stream-River Around Four Gates, Yuanjiajie Area: No. 1 Bridge in the World-Maze Platform-Back Garden
Day 2: Grand Platform: Immortal Bridge-Tianzizuo-Yibunanxing, Yangjiajie Area: Wulong Village-Tianbo Mansion
Day 3: Tianzi Mountain: Shentang Bay-Points Set-Helong Park, Ten-mile Gallery: Medicine-picking Man Peak-Three Sisters Peaks
♦ Detailed Itinerary

After arrival Zhangjiajie Train Station, we saw our tour guide there. With his help, we reached Zhangjiajie Scenic Area directly.
Day 1: Zhangjiajie Forest Park: Golden Whip Stream-River Around Four Gates, Yuanjiajie Area: No. 1 Bridge in the World-Maze Platform-Back Garden
The first site was
Golden Whip Stream
. The stream is in a length of 7.5km. The end of the stream is called River Around Four Gates. The width of the stream is about 20meters, but it is shallow that the depth only covers above the back of a foot. It is named because the stream flows through a rock called Golden Whip Rock. Because it is a stream between two valleys, so the temperature here is very cool and comfortable. And the air here is fresh. A very pleasant place to have a short hiking.
Another feature of Golden Whip Stream is the cleanness in the scenic area. All the roads are clean without any wastes so that the scenic area seems extremely as beautiful as a picture.
When saw the Golden Whip Rock, it was a rock peak grown from the ground and stretched to the sky just like a long whip. When in the fine day, the sun shines on the rock and colored it into gold thus it called Golden Whip Rock.
After about 1 hour hiking, we arrived a cross. On the right was the road to River Around Four Gates, on the left was the road to back garden (a site of Yuanjiajie Area). Aimed to save our energy, we chose to take the
Bailong Elevator
on the road of River Around Four Gates (the right one).
The we got the top point of Bailong Elevator, the scenery was amazing. We took the shuttle bus to Maze Platform to begin our visit to
Yuanjiajie Area
. The duration for visiting Yuanjiajie was about 2 hours including Back Garden, Maze Platform, No. 1 Bridge in the World, etc. Yuanjiajie featured large stone peaks and hundreds-mile deep valleys. It was the most beautiful part of Zhangjiajie. Especially when you visited Back Garden. Stood on the viewing platform, you can see a picture formed by hundreds of stone peaks that went to the sky, just liked a well0-trained army.
After a tour in Yuanjiajie, the first day trip was finished. May be because of the tiredness, all of us thought the dinner was extremely delicious.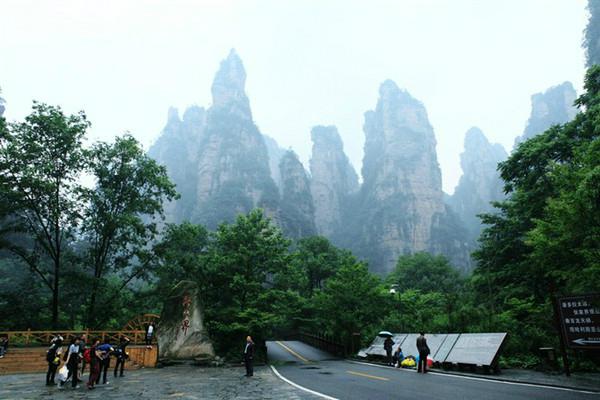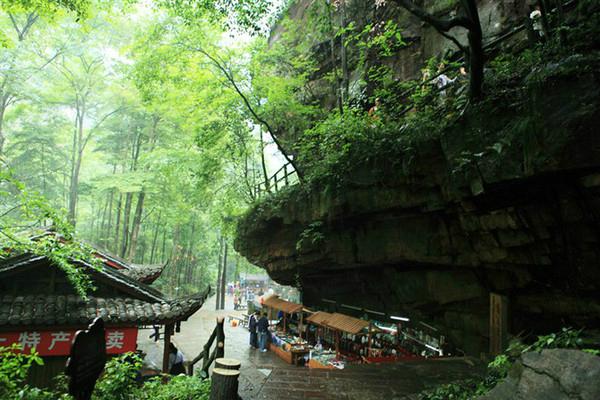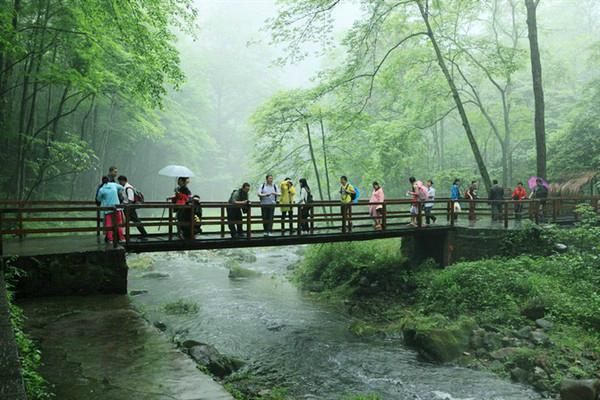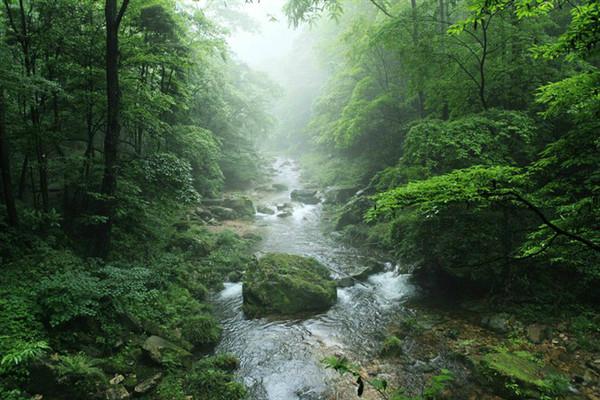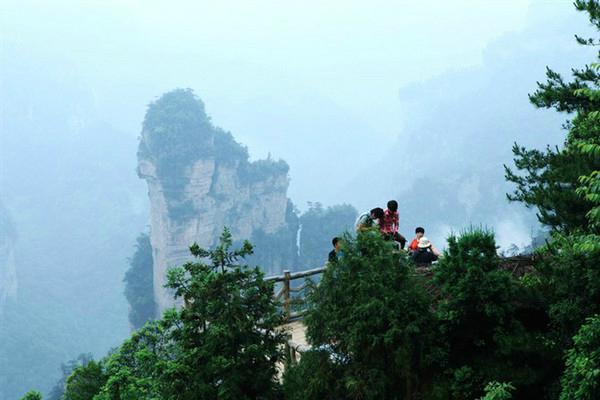 Day 2: Grand Platform: Immortal Bridge-Tianzizuo-Yibunanxing,
Yangjiajie Area
: Wulong Village-Tianbo Mansion
In the second day morning, our tour guide was so excited to tell us that the trees turned into rimes. We were also very excited to start our trip quickly.
There were four viewing points in Grand Platform part. We got to Fairy Bridge. It is a bridge formed by natural stone. The stone connects two valleys. Less than 1.5 meters wide, no fence along it, it was a famous site in Zhangjiajie Forest Park.
After lunch, we began our visit to Yangjiajie Area. Yangjiajie was a new scenic area that less tour groups be here. It was as beautiful as Tianzi Mountain. A higlight of Yangjiajie Area was called Wulong Village. It was once a bandit village. So we experienced a tour like a bandit
When finished the Wulong Village visitng, our second day trip was in the end.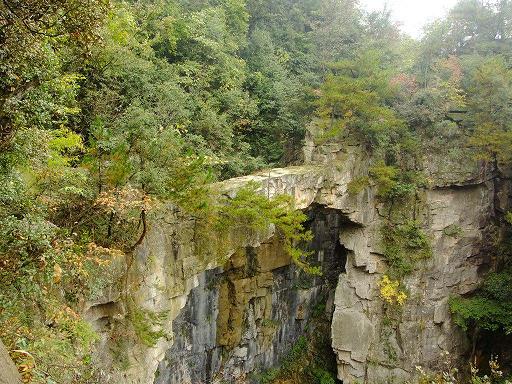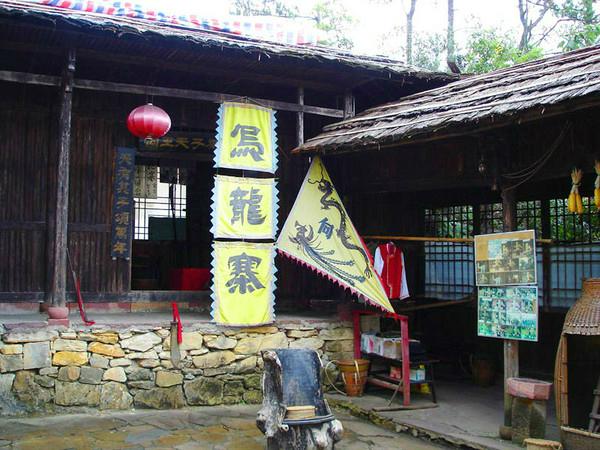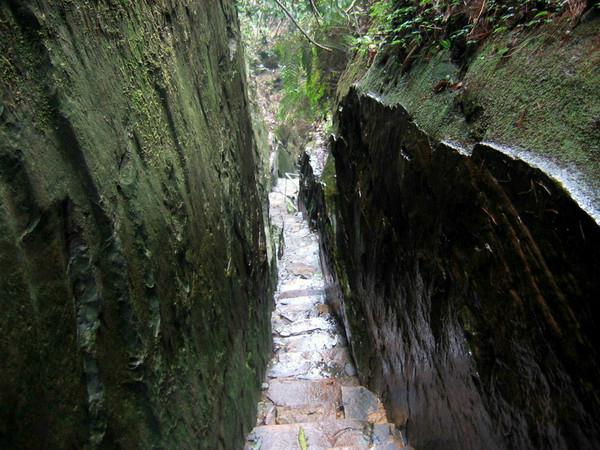 Day 3:
Tianzi Mountain
: Shentang Bay-Points Set-Helong Park,
Ten-mile Gallery
: Medicine-picking Man Peak-Three Sisters Peaks
Today, it was a leisure day without urgent itinerary. We firstly arrived in Shentang Bay. Because it was not a traditional attraction for travel agent, the visitors here are less than other places. Walked along the way, and took photos here and there. It was very comfortable at that time.
And then, we reached Helong Park. It was crowded. And most of visitors here were Koreans. It seemed that Zhangjiajie was famous in Korea. Even the vendors here could say a little Korean language. After a short visiting there, we had a lunch there. And then, continued our visit to the Ten Miles Gallery. We chose to hike in the scenic area. Visotors could also choose the sightseeing small train. Along the road, there were so many interesting peaks which were named by their shapes, such as Medicine Picking-op Man, Three Sisters Peak, etc.
It was the last destination in my Zhangjiajie Trip. Although the trip was finished, I was still could excited for it.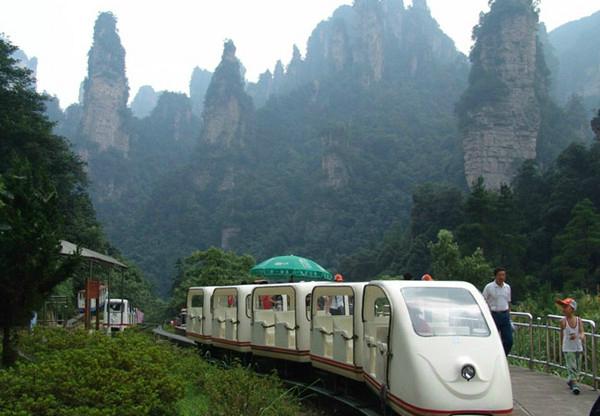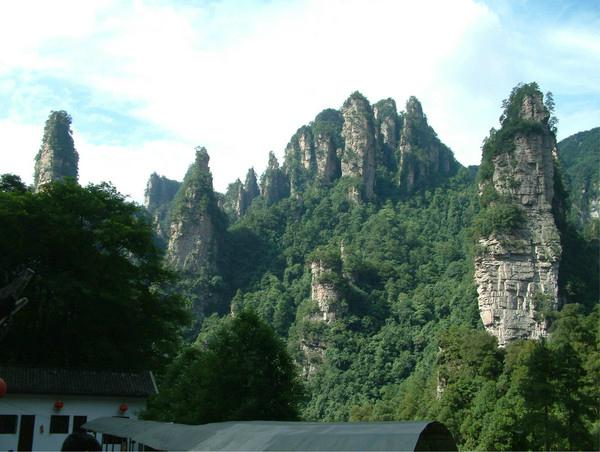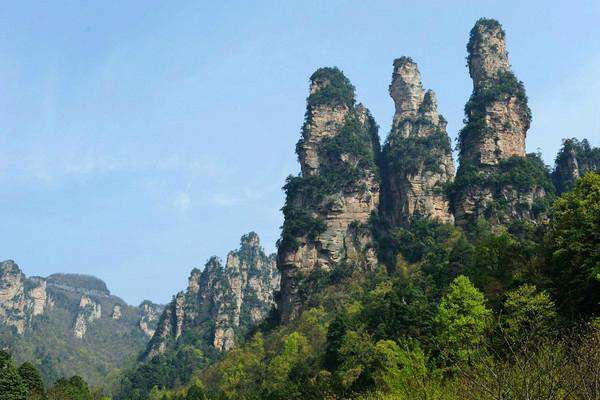 Fenghuang (Phoenix) Ancient Town

Fenghuang is close to Zhangjiajie, so we went to Fenghuang directly after our visiting in Ten Miles Gallery. Till 7 pm. We arrived the train station of Fenghuang. And then, we rented a car to get to the
Fenghuang Ancient Town
and reached there around 9pm.
Tuojiang River
went through Fenghuang Ancient Town. A bridge crossed above the river. People on the bridge walked sideways when they met each other. The nigh view of Tuojiang River was quiet. We just sit on the back and chatted. All of us loved to spend a leisure night here.
In the next morning, we rented a boat to do the sightseeing from North Gate. The Tuojiang River was very clean and shadow, so that I could see the water weeds in the bottom.
The south wall of Tuojiang River was the ancient city wall. Built by deep red stone, there were two towers on the east and north side of the city wall. Our boat passed through the east gate tower and then the rainbow bridge. There were stilted buildings in this area.
Fenghuang Ancient Town is a famous historic town because various famous people came from this place, such as Shen Congwen and Huang Yongyu. Shen Congwen, a famous writer, once lived in a southern courtyard in this place. The former residence of Shen now still keeps the photos of him. Shen's tomb also located in Fenghuang Tingtao Park. Huang Yongyu, the famous painter, had his new residence named Duocui Tower here. This tower was built on the bank of Tuojiang River.