Changkong plank road is the most egregious on Mt. Huashan. When I prepared for this trip and searched 2 pictures of this plank road on the internet, it scared me as I am afraid of height. It is said most visitor decide at a glance to keep away from it. But I was still determined to climb Mt. Huashan through the plank road.
One the way,I met some men who also decided to challenge the plank road. He asked me, "Will you go?" "Of course!" "Will you really go?" He confirmed with me. " I must go!" "Sure?" " If you do not go, I will go on my own."
So we (1 woman and 3 men) started to challenge Changkong plank road.

Going through the stone gate in the following picture, you will see the famous Changkong Plank Road, which is on the South Peak of Mt. Huashan. Then entrance fee is RMB30 per person.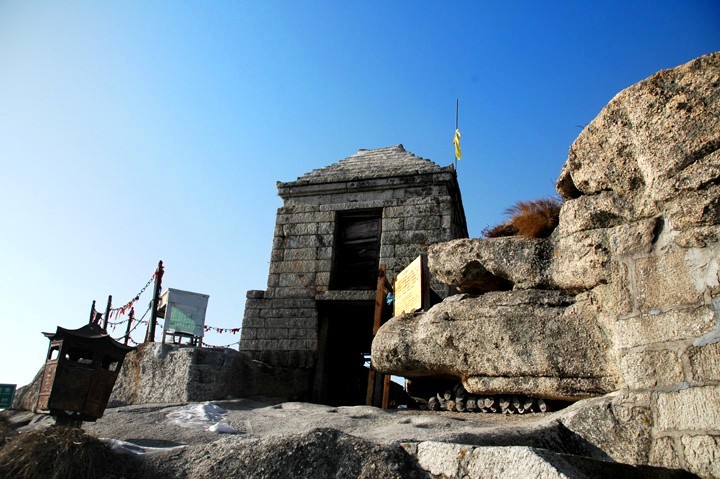 After going through the stone gate, we have to walk along the path for a while to the plank road. It is said the stone gate and plank road was connected by a path which was built by wooden plank. In order to make sure the safety of visitor, this path was cut on the cliff. Even though, people have to pluck up their courage to walk up this path is he or she is not brave enough.
It gets straight down from the spot with a red flag. It is only the beginning of the real thriller.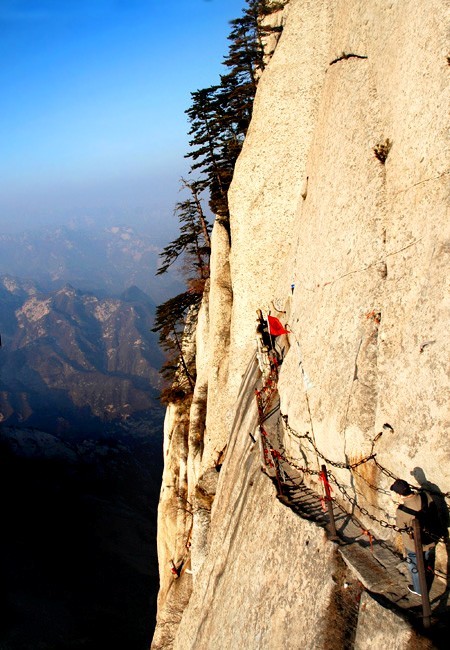 Long started to climb down straightly. It is a narrow lane along the cliff. He yelled, " Do not look down! You will feel dizzy."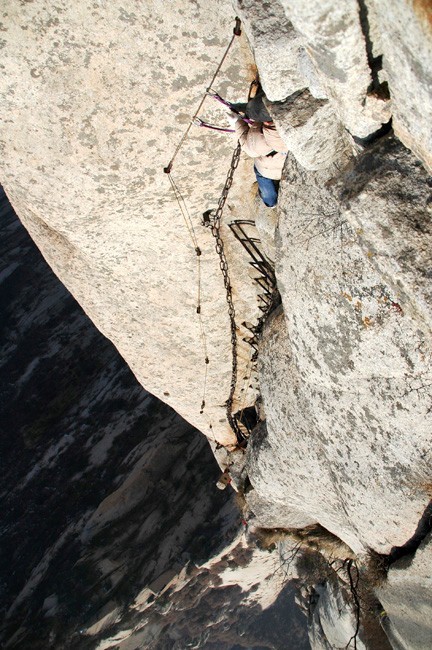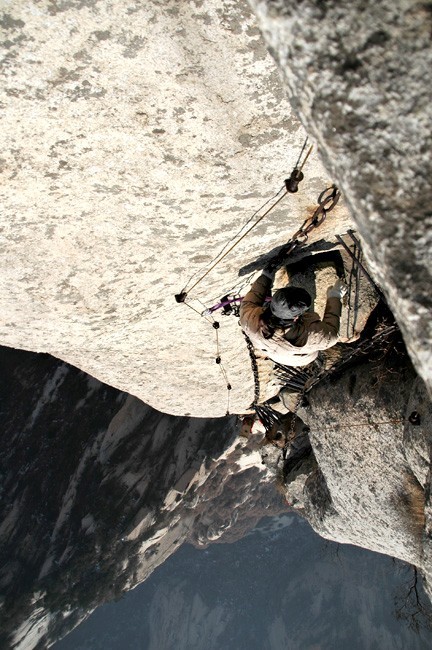 I looked down for a while, then my heart beat faster and my palm started to sweat. But the scare only lasted for a short time. I began very excited. They faced the cliff when they got down. But I faced the abyss when I walked down the cliff. I frequently took some picture when I went down step by step by grabbing the iron chain. I know they might think I am a crazy man. I just wanted to see more wonderful scenery, but not only a giant rock. I may go this way for one time in my life. If the good scenery is missed, it will be a pity. I do not want to left too many pities in my life. Therefore, I felt my afraid of height away at that time.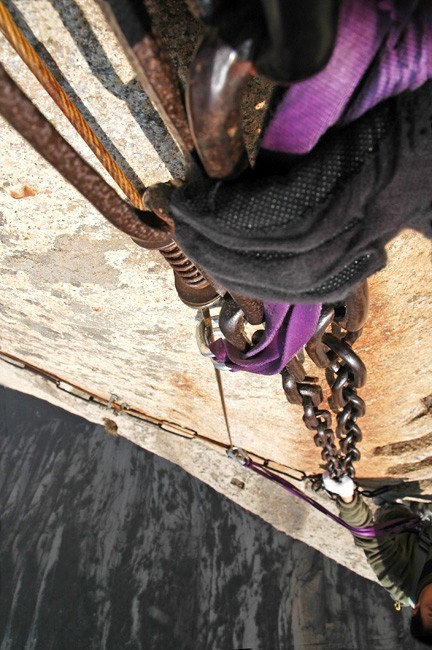 I took pictures as long as I was confident and sure the safety. Anyway, it is a dangerous risk, so travelers do not bite off more than you can chew.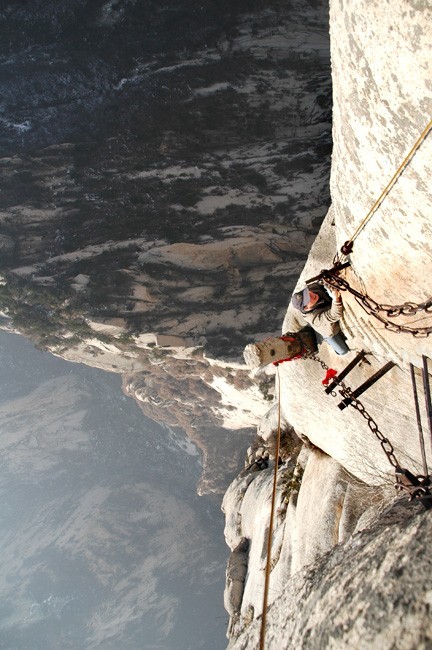 Now, Yu have already got down to the end of the Iron chain.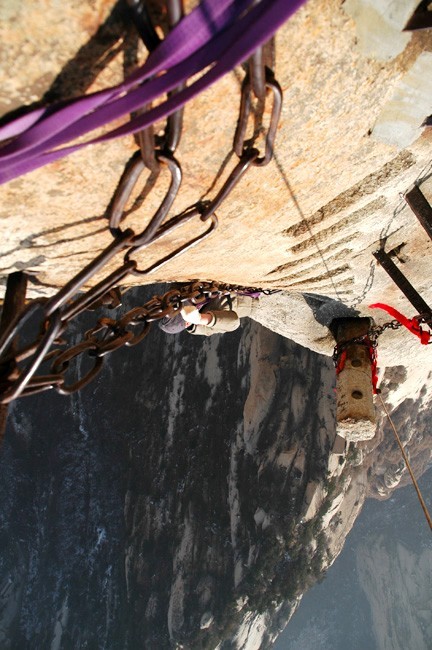 He is going on by stepping into each of the pockets on the corner of the cliff.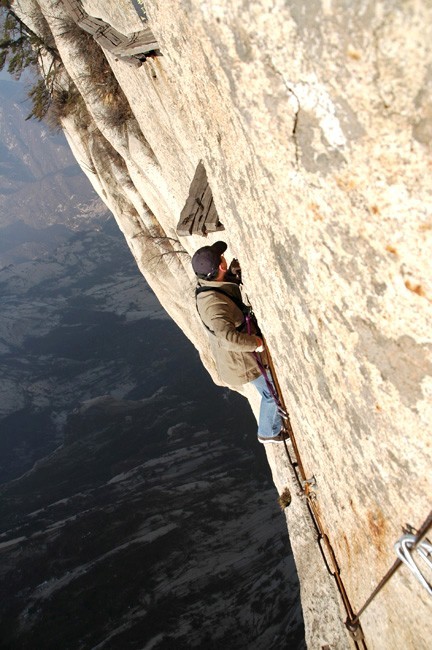 May people might feel horrible just as they just finished watch a thriller at cinema. I am still feel so excited.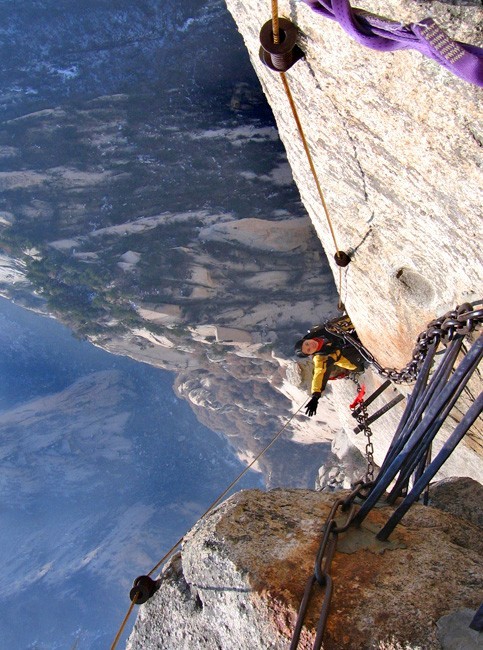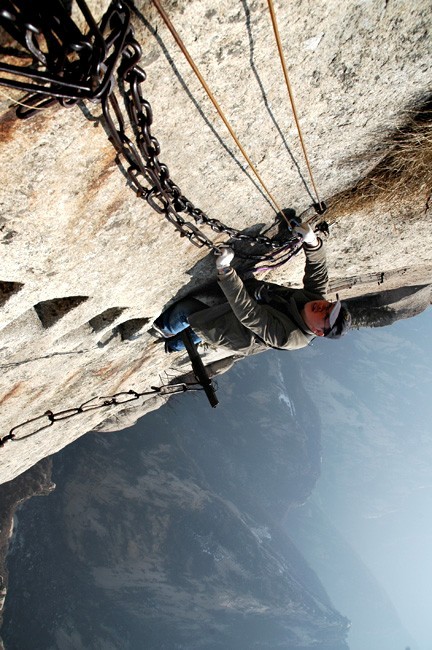 20-meter-long and narrow plank road follows the pockets. It is real Changkong Plank, hanging on the cliff, exposed to weather for years.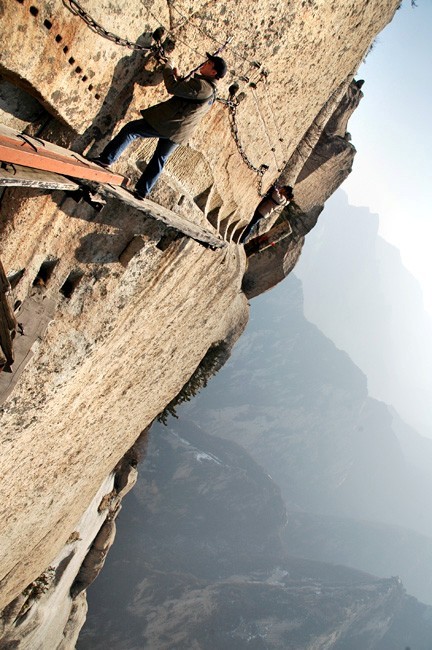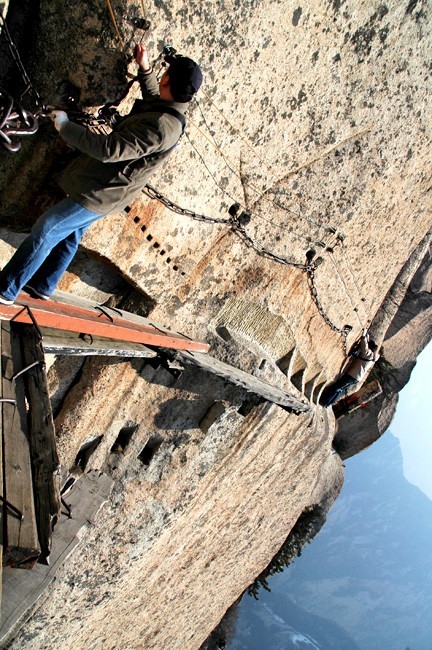 On the way, I take 2 pictures by putting my foot out of the plank on a whim.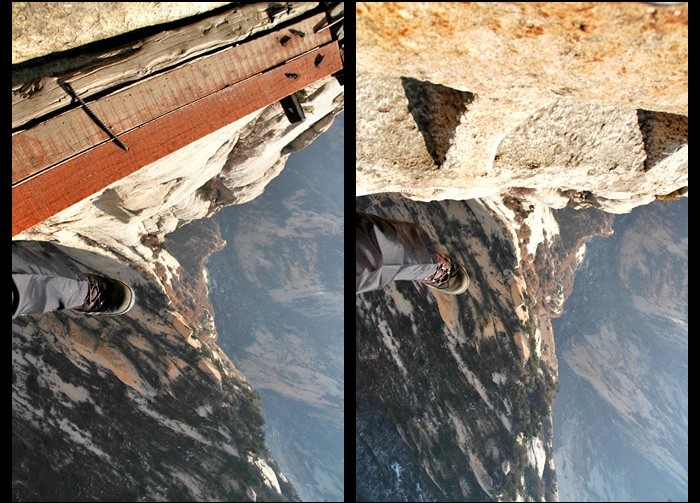 Climbing for a while from the end of the wooden plank, we see the "Repenting Cliff" which is from a Kongfu Novel by Jin Yong.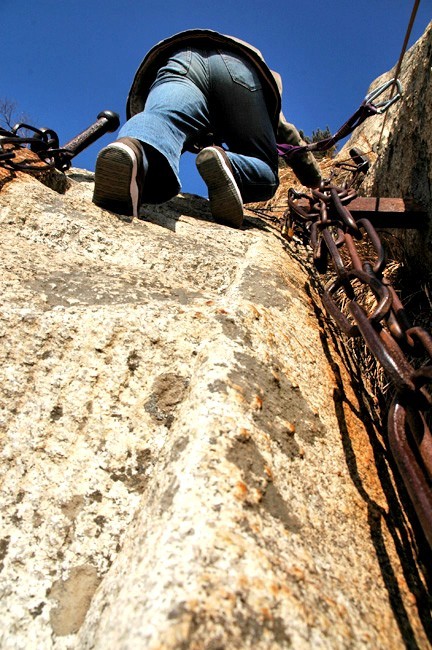 "Repenting Cliff" is a platform, but it is not easy to reach it.

There is only one way to Changkong Plank, therefore, we have to retrace when we see the platform. We do not feel as excited and thrilled on the way back.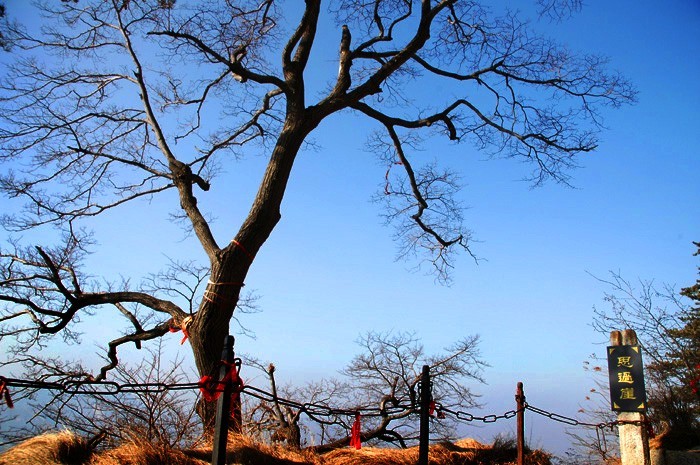 Everyone takes pictures bravely with smile on the face.

The most precipitous part is Changkong Plank. Therefore, Wherever we passed before is not more egregious than it. I went to many mountains after Mt. Huashan, the so-called most dangerous place became plain
Sophie Huang
Position:Travel Consultant
Life without friend is death without a witness, while traveling is a good way to make friends. Hence I love traveling. Don't you find that you are having less and less friends while you are focusing on your work? If so, come on, join us! We are Top China Travel, providing you a tailor-made tour to release yourself, enjoy marvelous scenery, experience different culture and custom and meet people.