Tibetan New Year is the most important and grandest festival for Tibetan people. Like the Spring Festival, this holiday will, traditionally, last for 15 days. How to celebrate the Tibetan New Year? Different areas have different way to celebrate this festival, let's make Lhasa as the representative.

Before the Tibetan New Year, people will well prepare their holiday dressing, purchase snacks and special goods in advance, like the wheat-straw - to drive out evil spirits, the "Qiema" - some kind of "Good Luck Box", which contains highland barley and "Zanba", the roasted barley flour, etc.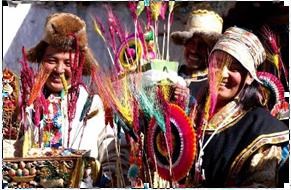 Festival goods

Tibetan the 29th December
Then from Tibetan Dec 29 (bases on Tibetan calendar), a series of ceremony for New Year celebration is on the way. The very night of Dec 29, local people will enjoy a reunion dinner to taste a special food called "Gugu", which is made from flour and shaped like dough balls. People will also mix radish strips, barley and peas into it. And, like some tradition in main land China and some western countries, some dough balls may also contain special things inside, like chilly, which means this people is talkative; salt, indicates sloth; woolen, means kindhearted and highland barley, means "Good Luck", etc.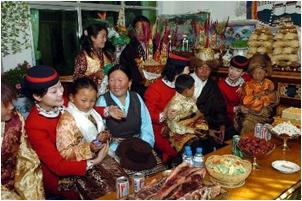 Reunion dinner

After this reunion dinner, people will use "Zanba" to touch their body (except the forehead) and hope that such activity will bring good luck and fortune to their family. They will put "Zanba" and the rest "Gutu" into a jar.

And then, one person will hold the burning wheat-straw and lead the way, other people will take the jar, fire the crackers behind and shout "All evil spirits leave here soon!" When they come to the cross road, the people who hold the jar will lay the jar on the ground and put the torch on the jar. So the exorcism ceremony is finished tonight.

Tibetan the 30th December
On Tibetan Dec 30, local people have many households to do: they will change and put up new curtains on the windows and front doors, paint lucky pictures on the doors, clean the rooms and present oblations like New Year goods, "Qiema", sheep head and barley sprouts, snacks on their enshrines. Afterwards, housewives have to cook and keep beef or mutton and meat of Tibetan hog as their meat dishes during the New Year.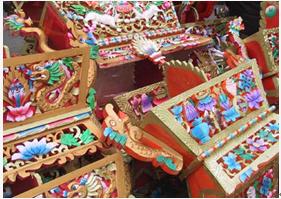 "Qiema"

One night after, so now, is the big time for Tibetan people – the first day of the New Year! Housewives have to get up very very early this morning as they should prepare Tibetan Yak Tea, barley porridge and "Guidang" - boiled out with barley, brown sugar and "Zanba", for their families. After all those been done, they should draw a bucket of water from the stream or the well, as people believed water on this time is the purest drops from heaven and gained god bless.

Tibetan the 1st January
Till daybreak, housewives arouse other members, who will dress in their new clothes. The younger generation will pay a New Year wish to the elder and present "Hada". Both of them will taste the snacks keep in "Qiema". After setting firecrackers outside, people enjoy their New Year breakfast – fried dough snacks, and drink barley wine, etc.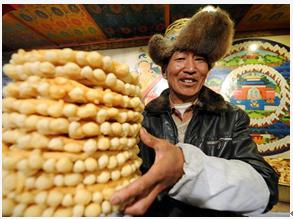 Fried dough snacks

But according to the custom, people today will stay at home and celebrate the day with only their own members. All the negative words, like "no", "don't", etc. should keep within one's mouth but could not speak out.

Tibetan the 2nd Januray
People start to visit friends and cousins to wish their happy new year. The hosts will welcome their guests with "Qiema". From the very day, folk artists will also visit local dwelling to wish they a good beginning. "Zhega" - a kind of local art that consists of talking and singing, is a very popular entertainment at this time. The "Zhega" artist in mask, holds well decorated stick, chants impromptu words to entertain the hosts.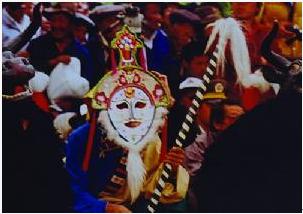 "Zhega" dancer

Tibetan the 3rd Janrary
After day break, people start to prepare festival snacks and around 10 o' clock, people in the same building/yard will get together on the roof, chatting and sharing their festival snacks.

When the "good and lucky time" comes, they will burn aromatic plant, spread "Zanba" and hang special flags (5 colors) on "Tajue" - "Streamers' Tree" as a ceremony. After that, will be the show time! Singing and dancing or playing games, people will celebrate the day with lots of fun.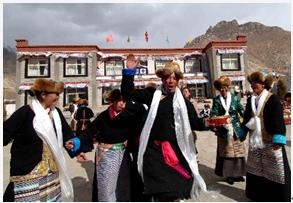 The "Streamers' Tree" setting is a very important and necessary part during the festival. There are 5 colors of flags hanging on the tree: Bule, White, Red, Green and Yellow, which indicated Sky, Cloud, Flame, Water and Earth. Thus set up the "Streamers' Tree" is make a wish that the coming year will be a rich year.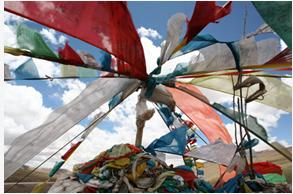 Streamers' Tree

The holiday activities will last till Tibetan 15th Janary.