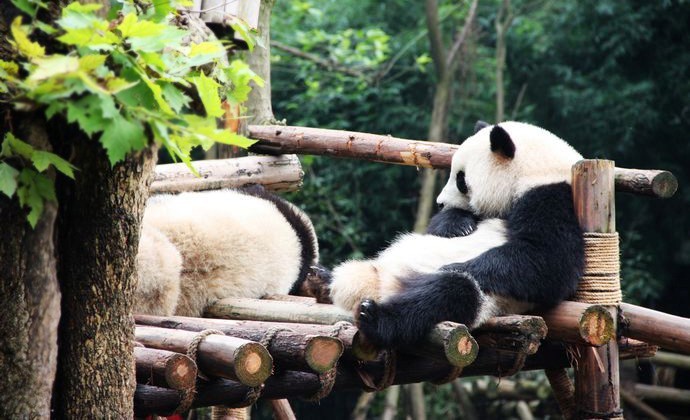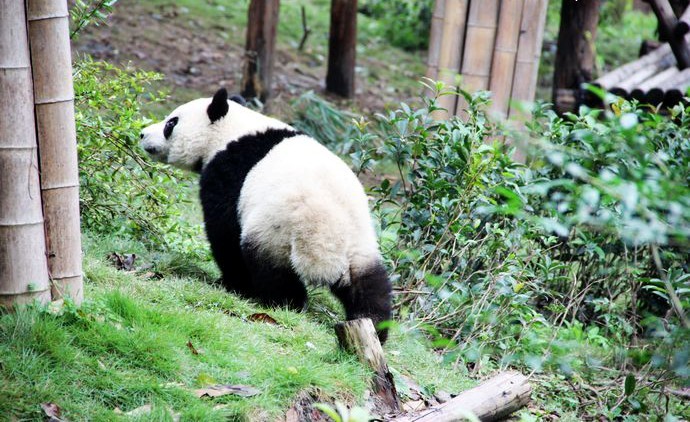 Panda is a national treasure of China. And Panda is also the facing endangered rare animals. It is a logical thing for people to see giant pandas in
Sichuan
. As for me, they are not stranger, because I had been seen them at the zoo in
Beijing
,
Guangzhou
and
Hong Kong
. So I had no plan to go to the Panda Base station initially before I come to
Chengdu
. But when I came to Chengdu, I thought it was a great opportunity. I will free regret if I did not go to see Panda. After consideration, I decide to go.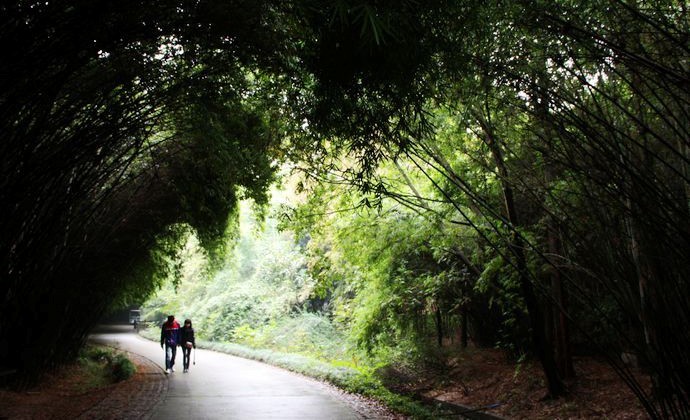 The home of giant pandas was in the mountains and forests. They have been living a mysterious "reclusive" life. But the ecological environment of their ancestral home was deteriorating. So far, more than 200 countries and regions around the world panda was on the verge of extinct. Only in China, in the deep forests of Sichuan, Shaanxi, Gansu, we just can find their presence. Here is their home which human open for them. Here is the panda's paradise, which known as "charming China, Pandas' cradle". Flowers were blooming on the hillside when you came into the base, just like walking into a beautiful ecological garden. The surface of the swan lake ripples. From time to time, we can hear the crisp sound of birds. Giant Panda Maternity Wards, the Panda Breeding Wards, Research Center, Panda Hospital were distributed orderly. A number of luxury Pandas' "villas" scattered among the mountains. There were a great of green bamboo forest which included fresh oxygen.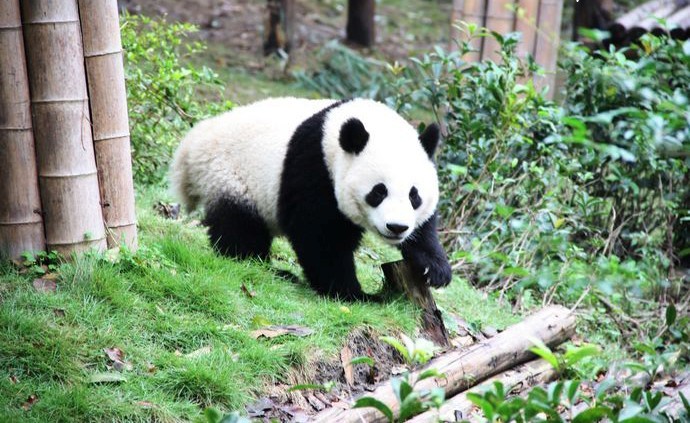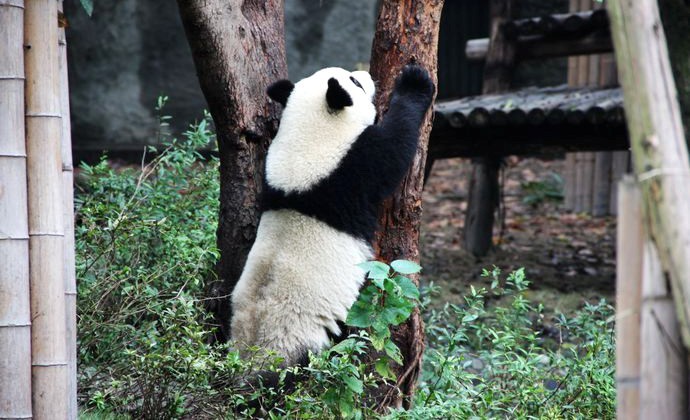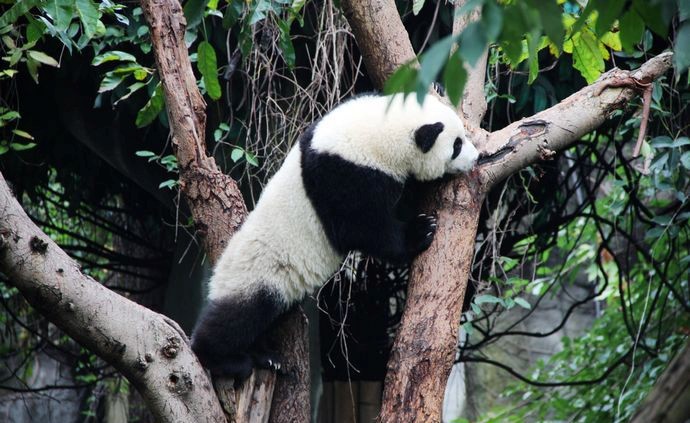 I met a couple on the way who we had been recognized at
Jiuzhaigou
. They just finished their trip and walked out the base. They told me the giant panda are now taking a break. So we could go to see the panda baby firstly. I expedited footsteps quickly, because I really afraid to miss the panda baby. They were so cute When I arrived at the stands of the panda baby's area. I can not see them at the first time, so I looked around and waited a few minutes. A few minutes later I began to find the shadow of their small size bodies. But they kept a far distance from me refusing to come close. I have to give up. However, at the base here, black and white giant panda are the real protagonists. But fortunately, God blessing, I wandered around and found the l giant pandas after lunch break have also started to come out and went to play and eat. Looked at them one by one, or eat some fresh bamboo, or chase frolic innocence slyly; or climb tree. No noise in the base. But in any time you can hear people's low cheers. Everyone's face indicated their love to pandas.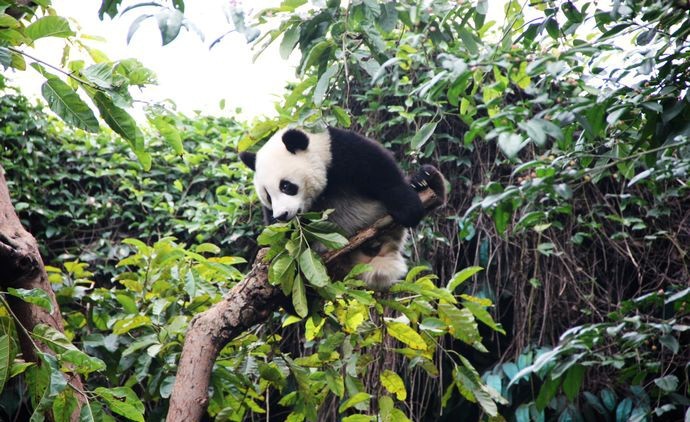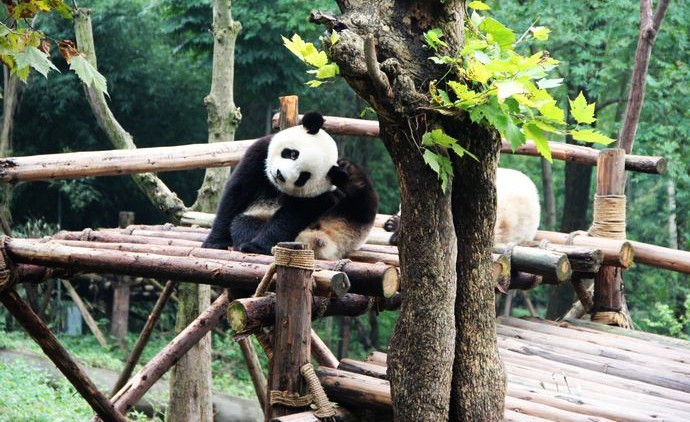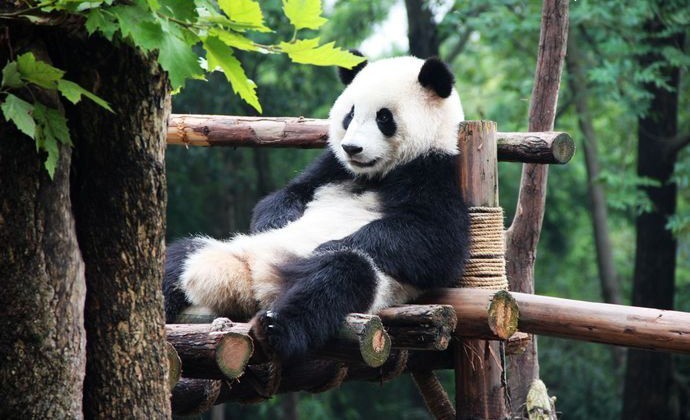 I looked carefully the appearance of giant pandas eating bamboo. Sometimes their head down, and sometimes they looked completely all around. As if there was nothing will disturb them. Their paws firmly draw the line with bamboo, put the bamboo into their mouths. Their teeth look very sharp, a mouth of biting made crisp sound. Let us feel that they eat bamboo and very enjoy it. Their action shall be leisurely, simply just like their proprietary performance. In this "Black and white world", you will find that you usually be infected by these happiness factors. These came from a few million years ago's animals, unlike the "Kung Fu Panda" -A Bao, both can play kungfu and do the noodles, but they seem to have a function of "time tunnel". Looking at them, you will find that happy is really easy. I thought this is the unique charm of giant panda.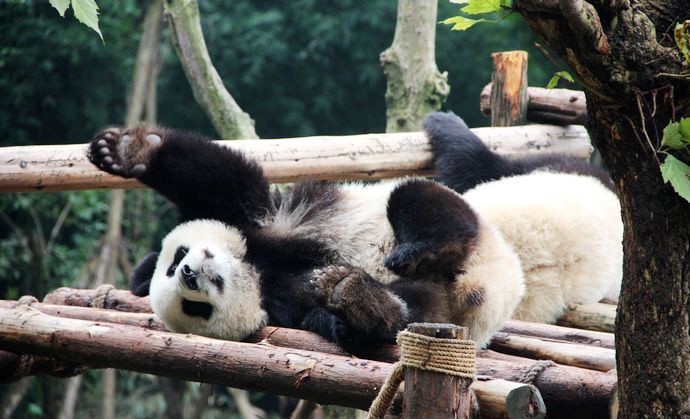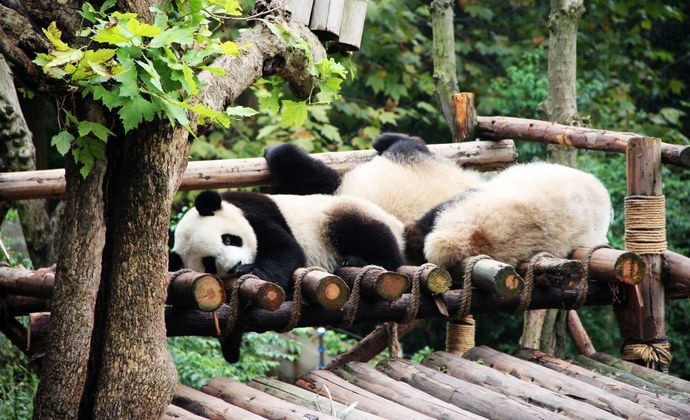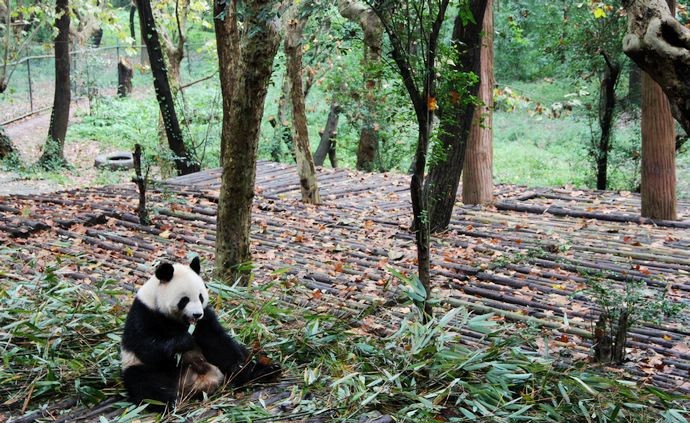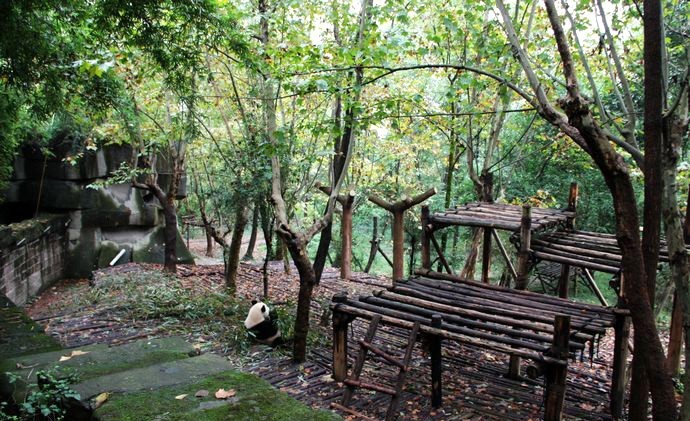 Over the years, many rare animals are extinct or endangered. We just can re-see their shadow from the data. I think all Chinese people will hope our national treasure panda can reproduce forever. Between human being and nature, man and animal and plant will keep harmonious coexistence, which is the common aspiration of our people on earth. Individual's abilities, financial resources, and energy are limited. It is impossible for everyone to make a great contribution. But at least, we can start from our own. Take good care of the environment for these rare animals. So that the shadow of these cute cuddly giant pandas stay forever on our side, rather than the impression in our mind.