Faith, has mighty spiritual power. If you ever traveled to Tibet by road, you must be impressed by those devotional pilgrims, who constantly repeating the same process – 3 steps forward then went down on their knees and crawled forward, kowtowed, again and again…They come from different counties and countries, they speak in different languages, but beyond all differences of races and family background, they have their own faith, their religion. Distance apart, day after day, they were on the way to their "Mecca" - the divine
Jokhang Temple
.
Potala Palace
is the historical and political symbol of Tibet, while the Jokhang Temple, is the irreplaceable representative of Tibetan religion. One can even say that this temple occupies an unchallengeable position of Tibetan Buddhism. The Jokhang Temple, which located in the center of old Lhasa city, with the Barkhor Street surrounded, formed the "heart" of ancient Lhasa. "Before the foundation of the Lhasa City, Jokhang Temple is already there", local people said so. Jokhang Temple, is the truly soul of the very city.
The Jokhang Temple is the oldest civil-structure building in Tibet, which well mixed Tibetan, Tang-Dynasty, Nepalese and Indian style of architecture together, initiated a new space layout model for Tibetan monastery.
The grand Sakyamuni Hall and the building surrounded formed a cycle named the central "Non-khor", while its exterior wall made a bigger circular-shaped "Barkhor", thus the radiated street around has been called Barkhor Street. If made Jokhang Temple as the center, involved.

Potala Palace, Chakpori Hill and Ramoche Temple, one would find a large "Lin-khor". Those three cycles together formed the very route for followers to do the prayer-wheel turning ceremony.
Everyday at the daybreak, people lived around can hear the chanting, alternated with low-pitched sound of the turning of prayer-wheels and sound of rolling sutra streamers…Lesson carefully, one can even visualize the movement of those devout followers - go down on their knees and crawl forward, kowtow…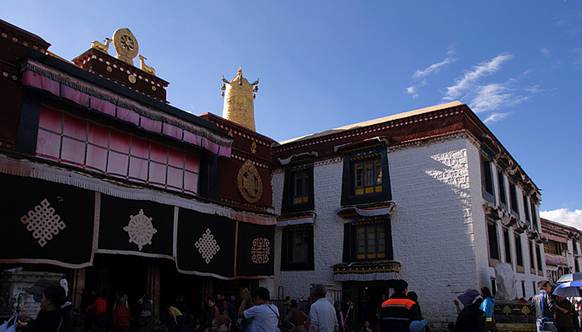 People from different places come here and show their firm faith. Some tourists also joined to them.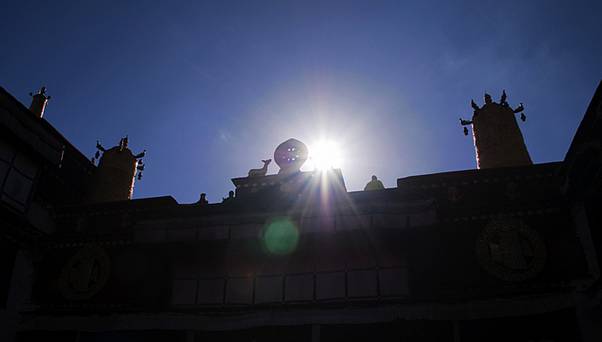 The morning sun shone on Jokhang Temple. Shooting from this angel, everything have sunk into the darkness except the prayer wheels and the Shuanglu Dharma Wheel stand on the top of the temple, they reflected the sunlit and formed an elegant portrait.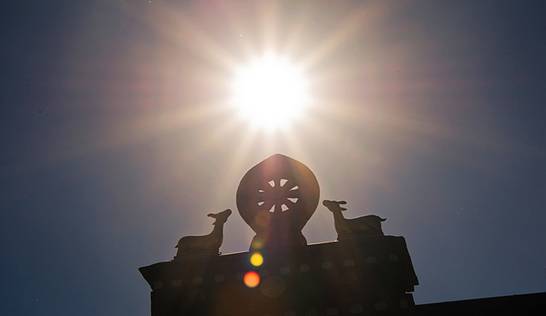 The Shuanglu Dharma Wheel is the symbol of Jokhang Temple. That light, just like the spiritual light from heaven.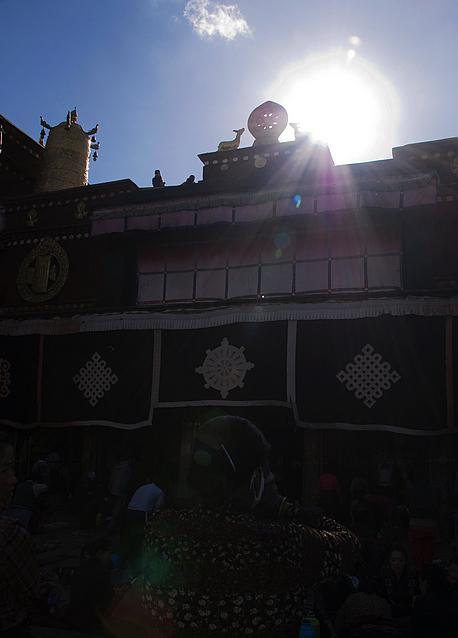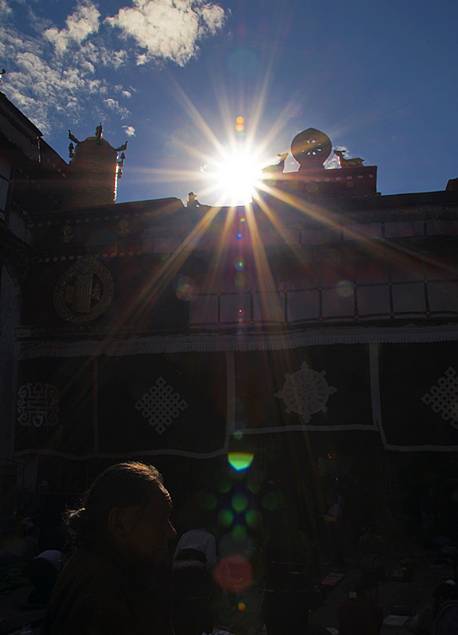 Bathed in sunlight, pilgrims devoted to the world of mind undistracted by the crowd around. They raised their arms above their heads then crawled forward…They prayed that their families to be healthy and enjoy a happy life. The brilliant sunshine lit up the land and gilded the hair of an elder Tibetan pilgrim.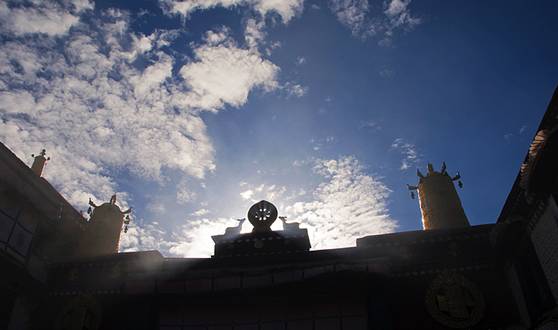 Change an angle, you can see the broad clear blue sky just formed a soundless stage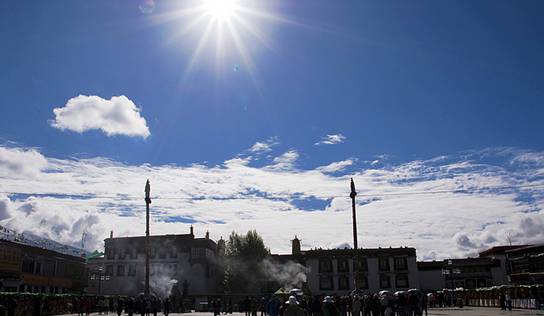 The square of Jokhang Temple bathed in sunshine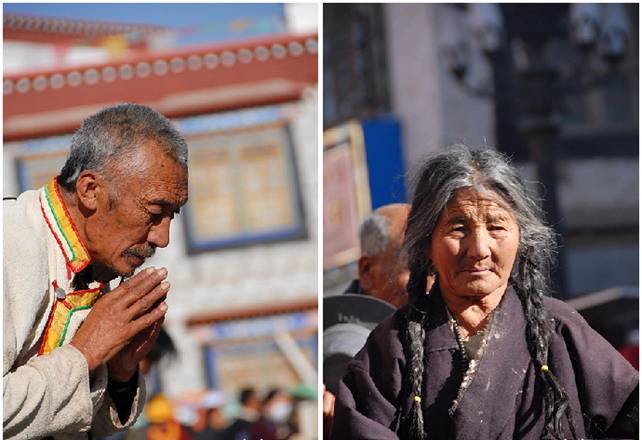 Devotional pilgrims…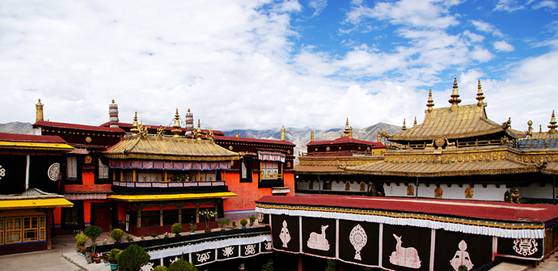 The Golden Palace is the main part of the temple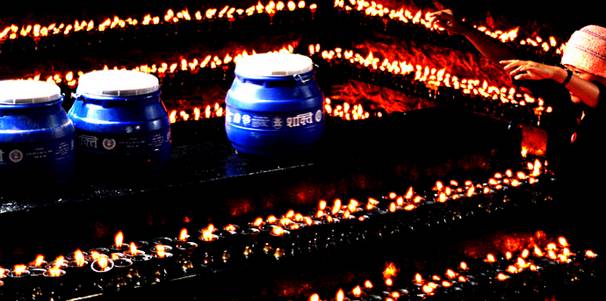 On the east side of the yard, there are hundreds of Ghee Lamps keep aflame throughout the year.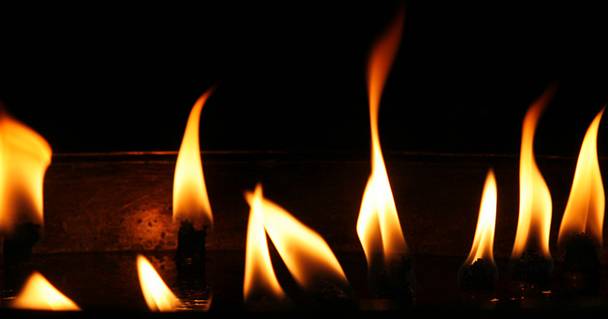 The flames flickered, like hundreds of dim light coming from the soul of everything innocent.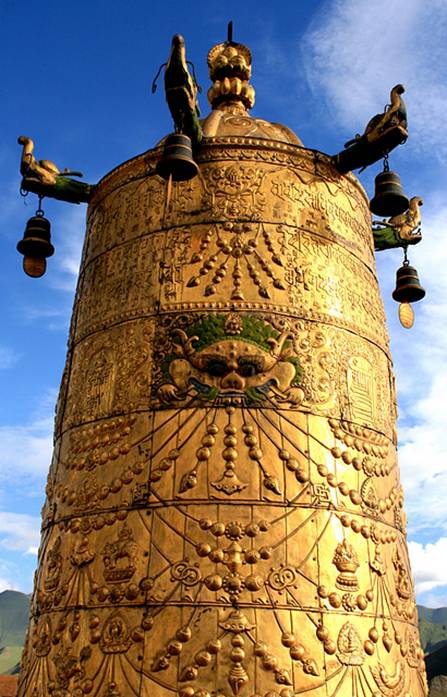 It just one of the pray wheels stands on the very top of the temple. Look at the elaborate sculptures on it.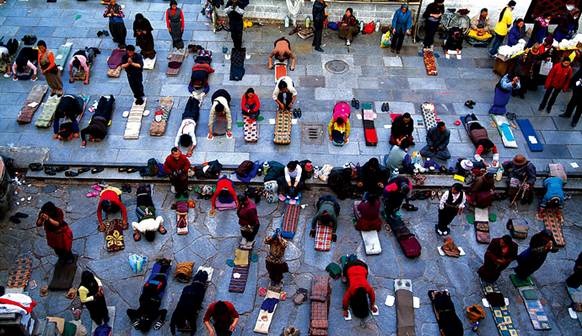 Take another look of the pilgrims coming from afar…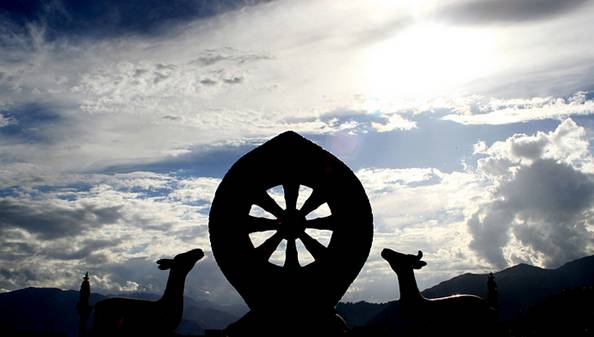 The Shuanglu Dharma Wheel in the dusk.